Internet Speed Testing - 2016 Southeast Asia Trek
This is just a silly log of the internet speeds I'll be getting throughout various locations during my travels this year, as requested by my friends Dan, Melanie, and Aaron. So, here you go:
AirBnB Apartment - San Diego Gaslamp Quarter (map)
02-SEP-2016 - 04-SEP-2016
I didn't really internet too much here since it was the weekend, and the brief time I had in town was spent out and about with friends.

Once Again Hostel - Bangkok (map)
06-SEP-2016 - 09-SEP-2016
The internet here behaved better in practice than the speeds might imply. Video calls to the US were smooth and clear.

Why Not Hostel - Chiang Mai (map)
09-SEP-2016 - 12-SEP-2016
I ended up not needing to stay here, so I didn't really use the internet much. But the speed test results seemed pretty good.

truemove H 4G data plan - Chiang Mai
10-SEP-2016
I stopped by a cell phone kiosk on the 4th floor of Maya Mall to pick up a local sim card, and 1-month unlimited data plan by True, which was recommended by some other nomads/expats I met after arriving. I'm glad I decided to bring to along my old Android Nexus phone (which is now serving nicely as a mobile modem and router).

roastniyom coffee shop - Chiang Mai (map)
12-SEP-2016
This place is crazy convenient to me, being just downstairs from my apartment. Coffee and snacks are good (Iced latte here cost 60฿), but the available wifi(s) were not:
roastniyom1 wifi network


[email protected] truemoveH wifi using my TrueID login credentials while at the roastniyom shop:

Tom N Tom Coffee - Chiang Mai (map)
13-SEP-2016
Located across the street from Maya Mall, in Think Park. Drinks are on the expensive side (~100฿), and your receipt gives credentials for their wifi (the kind that has no WPSK type security, but prompts you with a login screen) and comes with a time-limit.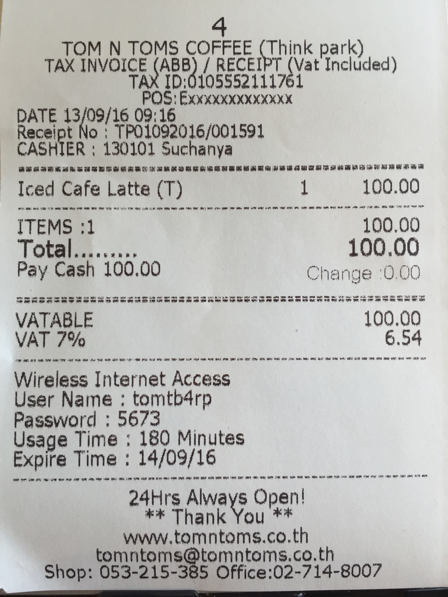 The interior of this place quite nice, with lots of space and power outlets everywhere. I think this spot is probably only get use as a change pace location, or taking advantage of the 24hrs availability. Speed test below:

Library Coffee (Librarista) - Chiang Mai [map]
13-SEP-2016
The location on google maps is slightly misleading, it is right next to the Healthy B Cafe. Thai Tea here is 75฿. The high ping shown from the speedtest is painfully noticeable on some page loads (a second and third test had it at 90ms and 121ms). Outlets are kind of sparse and much of the seating is on the floor / beanbags (which could nice, or uncomfortable depending on your mood).

Healthy B Cafe - Chiang Mai [map]
13-SEP-2016
I think I've found a pretty solid winner here. Nice selection of food (with all-day breakfast). It is Americanized/Westernized which may be a turn off to some, but I don't mind getting a taste of home 😋. It also has several Vegan and Vegetarian options which isn't something that is catered to much here (at least from what I've seen so far). Cafe Mocha is 70฿. The outlets are a little sparse, and the music is kind of loud and annoying. The music thing seems to be the case just about everywhere, but is about the only knock I have against this spot, even if it's not a unique knock. The speedtest blows the others out of the park.

Punspace Nimman - Chiang Mai [map]
15-Sep-2016
This is a pretty popular co-working space, get myself a membership for the next month so I can get in 24/7. The WiFi here is pretty solid, but is annoyingly one of the login-screen popup styles.

CAMP at MAYA Mall - Chiang Mai [map]
16-Sep-2016
Much like Tom N Tom across the street, drinks are on the expensive side (~95฿), and your receipt gives credentials for their wifi (again, the kind that has no WPSK type security, but prompts you with a login screen) and comes with a time-limit. The space itself is really neat however, with all kinds of crazy seating options. I also tried out the AIS Super Wifi while at Camp, results below: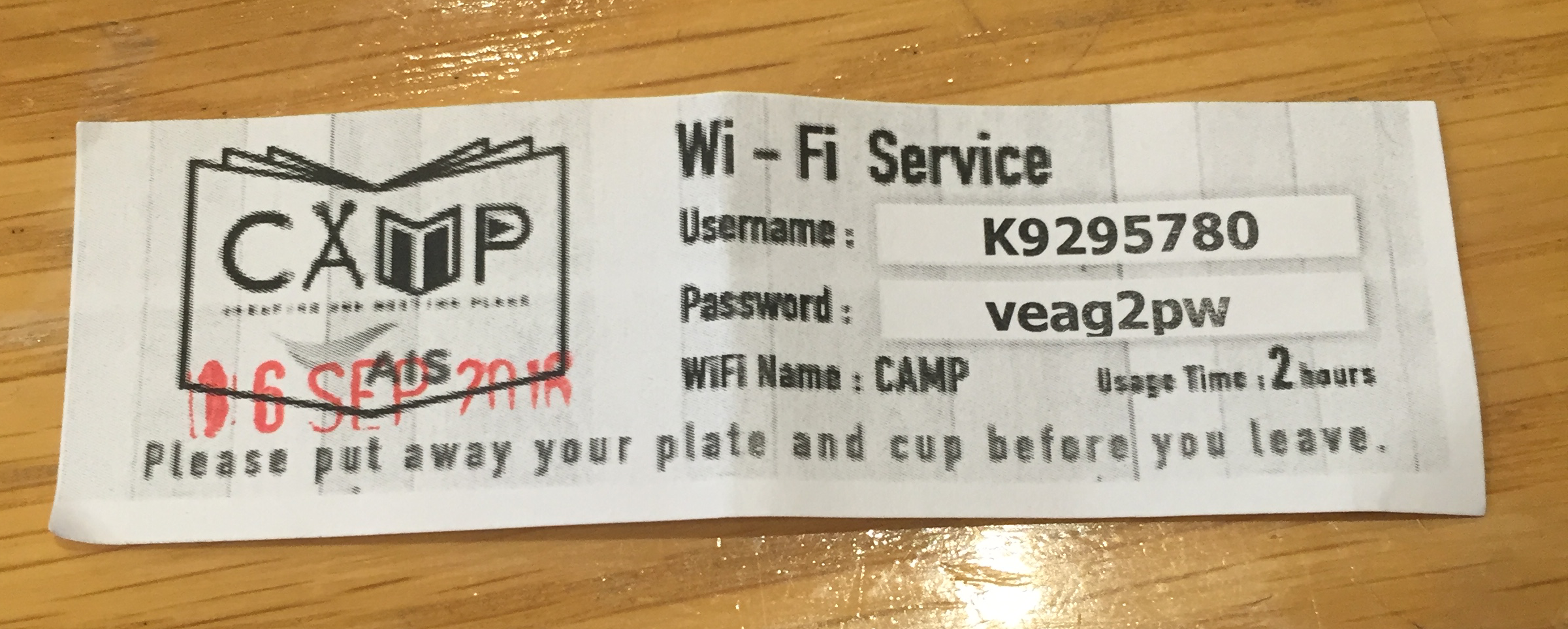 CAMP wifi network


[email protected] AIS SUPER WiFi I also tried out the AIS Super Wifi while at Camp, with my shiny new AIS creds:

Doi Chaang Coffee - Chiang Mai [map]
18-Sep-2016
This is a nice little place (and I mean little) with some pretty decent wifi speeds: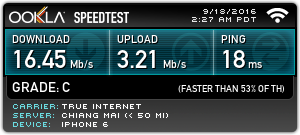 Baa(n) Din Cocktail Bar
22-Sep-2016
This is a bar, and not really a spot to work from. But they do have wifi, so here's a speed test from my phone:

P.T. Residence Free Wifi - Chiang Mai
20-Sep-2016
The wifi that comes with the room had decent speeds at times, but I experienced tons of interruptions. Here's a Speed Test below, but after doing a couple tests, the Download would range from 2.98 Mbps to 12.89 Mbps. And the Upload would be anywhere from Zero to 2.82. The Ping would vary from 20ms to 60+ms. The wifi style is also the annoying login-prompt style.

Sinet 50/20 Plan - Installed at P.T. Residence
28-Sep-2016
The provided internet by P.T. Residence wasn't terrible for general browsing, but trying to do voice or video calls to the US was really unreliable. Sinet is the popular in-home provider here, and I signed up for their 50Mbps / 20Mbps plan, which runs 699฿ per month (~$20 USD). There was also an installation fee of 500฿ ($15), and a refundable deposit of 500฿ for the equipment.
I've only just gotten this set up, so I'll update later after some video call and remote desktop sessions. But the speed test results below look encouraging over the wifi that comes free with staying at P.T Residence:

Carbony Coffee Shop - Bangkok [map]
03-Oct-2016
This is a quaint little stop if you're exploring the old city in Bangkok. Coffee is good, and runs around 85฿. There are only a couple places sit, but the shop seems quiet enough to where that is probably fine.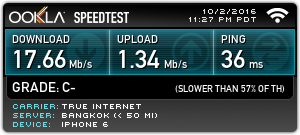 Baiyoke Sky Hotel - Bangkok [map]
04-Oct-2016
I came down to Bangkok to meet up with my friend Cassie, and wanted to find a room near the Airport Rail Link, as well as the canal boat. The Baiyoke Sky Hotel fit the location bill, with an added bonus of being the tallest hotel in Thailand. The building seems pretty old however, with a really musty/moldy odor in the room. The wifi is just barely usable, and the "Roof Top Bar" isn't really on the roof. The location was super handy for public transportation options, and is loaded with shopping options: both indoor malls and open-air markets. Anyways here's the wifi speed test: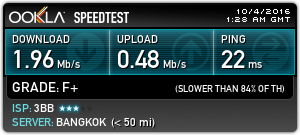 Wake Up Cafe - Chiang Mai [map]
24-Oct-2016
Wake Up Cafe is one of the 24hr options available in town. It is a large, nice space with good lighting, and several different seating options. Also has a subway built in. The wifi here is the kind where you get a receipt with a login, but this one is good for 4 hours, unlike the typical 2 hours are CAMP and Tom N Toms. This location also has access to AIS SUPER WIFI, which is for sure the better option if you have the AIS wifi plan.

Ombra Cafe - Chiang Mai [map]
27-Oct-2016
Ombra Cafe has a great aesthetic, coffee is ~65฿, wifi is pretty decent. It seems to be a pretty popular spot, as most seats are taken.

Central Hostel - Siem Reap [map]
02-Nov-2016
The internet at the hostel was better than I was expecting in overall, but it does seem to occasionally drop out, which was a problem on one of my video calls.

AngkorHUB - Siem Reap [map]
04-Nov-2016
Angkor is a really laid atmosphere with outdoor seating, indoor tables, and even some hammocks. We checked in for the day for $5, and they have family-style lunch available for $2, coffee between $.50 and $1.25, and there are several (seemingly) nice local places right next door as well.

AirBnB - Phnom Penh [map]
06-Nov-2016
Our AirBnB is pretty nice, hidden away on a back street with some precarious stairs leading up to the third floor. This is the first place I've been that I needed a power adapter for (none of the outlets here had a 3-prong option for the grounded laptop plug. Thankfully a corner store had one for sale for $1, since I left mine in Chiang Mai.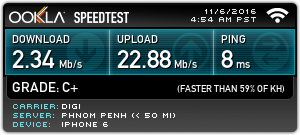 Java Cafe & Gallery - Phnom Penh [map]
07-Nov-2016
This place has a nice number of seating options, well lit. Drinks range from $2 - $4, and there is a pretty decent food menu as well. Upstairs has a little art gallery. Speed test is pretty slow

Felix Cafe - Phnom Penh [map]
07-Nov-2016
This place also has a nice number of seating options, and drinks range from $1.10 - $4. Though this might be the. Speed test again is pretty terrible.

Pai Yan Yai - Chiang Mai [map]
12-Dec-2016
Cozy little cafe with a decent menu of food a drinks.

Subscribe to Grail, Ian S.
Get the latest posts delivered right to your inbox